<![CDATA[
Improving your connection with your personal values ​​is a good start for your personal itinerary. There are many ways of doing it. Barret Values Centre offers the Personal Values ​​Assessment (PVA)
, which focuses on the perception that you have about your own list of personal values. It is vital to know your values ​​so that you can use them consciously in your decision-making process.
This tool is based on the self-evaluation of PVA values. In the following
link
you will find the evaluation and after carrying it out, you will receive the free report. The report you receive analyzes the
ten main personal values
​​that you have chosen to determine: the level of consciousness from which you are operating and the type of values ​​that you consider important for you (individual, relational or social). It provides you with a framework from which to work with your own values, determine your strengths and areas for improvement, and propose next steps so that you can evolve. If you decide to do the exercise with your team, we recommend that you ask the participants to carry out the PVA and personal reflections before the meeting. Ask the participants to bring their results with them.
FROM INDIVIDUAL DIAGNOSIS TO ACTION
PURPOSE OF THE EXERCISE. Learn more about yourself. Inquire about what is important to you and what motivates you. OBJECTIVE. Deepen the understanding of those values ​​that are important to you and the level of consciousness from which you are operating.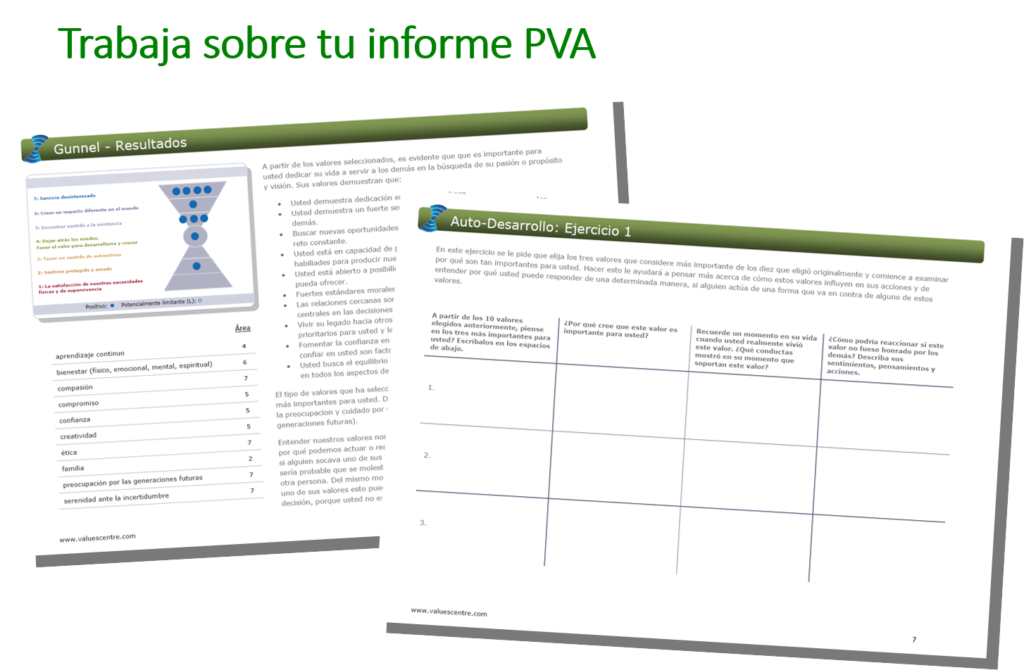 GUIDE FOR A GROUP SESSION
Present attendees the Purpose, the Objective, and the agenda of the meeting.
Pose the exercise indicating the different steps you are going to follow. Make sure everyone understands the exercise. Allow time for the attendees to raise their doubts, questions and concerns.
Make sure everyone has the opportunity to express their opinion. Be assertive and ask questions to corroborate it. Remember that the process is as important as the result.
The exercise concludes with a joint reflection on the experience and the learning that has contributed to them.
AFTER THE SESSION. Make sure you recognize and see the strengths and behaviors of each of the people who have attended the meeting, as a confirmation and verification of what you have shared together during the session.
Learn more in
Conéctate
a Practical Guide to transform the culture of teams and organizations.
Learn more about the Cultural Transformation Tools 
for individuals, teams and organizations.
Transform Action
is a global partner of
Barret Values Centre,
an organization dedicated to identifying values from which leaders operate, the values that govern team management and the culture of organizations. We identify these values through Cultural Transformation Tools, tools that allow us to identify the «cause-effect» relationship between Values and Results.
]]>