<![CDATA[
Corporate Learning 2019
Transform Action will be present on October 17th at the most important Talent and Learning event in Spain. Under the hashtag #CorporateLearning19 we will be with very important guests who will give us all their knowledge.
Transform Action will facilitate the Table ALIGNISHING CULTURE WITH STRATEGY
From a shared vision and common values with the participation of speakers such as: José María Feliu, Director of People and Quality at RACC Patricia Delgado, Transformation and Change Management Manager, TELEFÓNICA Benoit Perrin, Chief Financial Officer at PULLMANTUR Ignacio Barrutieta, Vice President of Operations at GRUPO SANTANDER Moderator:
Gabriela Infer
Manager of TRANSFORM ACTION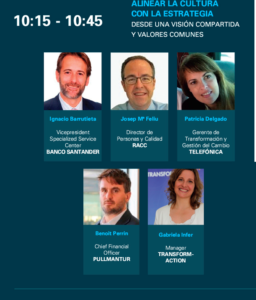 The processes of aligning people and processes with a new strategy must be led as a Cultural Transformation Process. The Cultural Transformation Process focuses on aligning people, implementing new processes and improving the results of an organization's teams. Alignment and improvement is achieved through changes in the way of thinking (values) and acting (behaviors) of the members of the organization's teams. Team Leaders facilitate change and improvement by activating leadership values and behaviors aligned with your organization's strategy. We will know the experience of leading organizations about:
How do we align people and processes with strategy?
How do we activate people to get involved?
What is the point of creating a shared vision?
How are the driving values of the strategy put into practice?
Look what Corporate Learning is all about! https://www.youtube.com/watch?v=zhACueRefgg&feature=emb_logo CORPORATE LEARNING DAY October 17 – Circle of Fine Arts. Madrid. Spain Fernando Rojas Auditorium Don't miss it! Registration at:
https://www.equiposytalento.com/corporate-learning/
Only for HR professionals We look forward to seeing you at our booth! A hug]]>